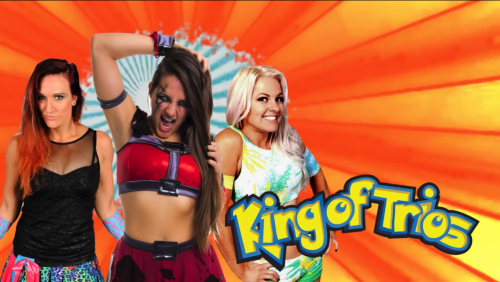 Alors que le traditionnel tournoi Trios de la CHIKARA, le King Of Trios, ne débute qu'au mois de Septembre (du 02 au 04), la fédération à tout de même dévoilé les deux premiers Trios qui y participeraient et il s'agit de deux Trios exclusivement féminin.
1.
Team SENDAI Girls:
Meiko Satomura, DASH Chisako, & Cassandra Miyagi
2.
Team SHIMMER:
 "Crazy" Mary Dobson, Candice LeRae, & Solo Darling
3.
Team Original Divas Revolution:
Lisa Marie Varon, Mickie James & Jazz
4.
Team JWP:
Hanako Nakamori, Manami Katsu & Command Bolshoi
5. Heidi Lovelace & N_R_G (Race Jaxon & Hype Rockwell)
6.
The Colony:
Fire Ant, Soldier Ant & Silver Ant
7.
Warriors Three:
The Estonian Thunderfrog, Princess Kimberlee, & Oleg the Usurper
8.
Team #CWC:
Cedric Alexander, Drew Gulak, & Johnny Gargano
9.
The United Nations:
Juan Francisco de Coronado, The Proletariat Boar of Moldova & Prakash Sabar
10.
Team Police Squad:
Officer Warren Barksdale, "Supercop" Dick Justice & "Detective" Bill Carr
11.
The Batiri:
Obariyon, Kodama & Kobald
12.
Major League Moustache:
Dasher Hatfield & Moustache Mountain (Trent Seven & Tyler Bate)
13.
Team Big Deal:
The Big Deal, Rick Roland & Sloan Capriese
14. Amasis, Ophidian & Argus